Social and economic situation of the Municipal Formation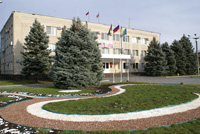 The Kurganinsk District was founded in 1924. The city of Kurganinsk is a center of the district. The district is located in the south-eastern part of the Krasnodar Region, 153 km from the city of Krasnodar.
The district shares its borders with the Republic of Adygeya, and with the lands of Ust-Labinsk, Tbilisskaya, Gulkevichi, Novokubansk and Labinsk Districts of the Krasnodar Region.
The structure of the Kurganinsk District includes 1 urban and 9 rural settlements.
The district is crossed by the "Armavir – Tuapse" Railway Line from the east to the west, and by the "Ust-Labinsk – Upornaya" Highway from the north to the south; in addition, there are a number of other local roads in the territory of the district. The Laba River, which has a total length of 85 km within the district, is a main waterway here.
The area of ​​the district is 1,538.9 km2.
The terrain of the district is a steppe plain. The largest part is occupied by agricultural lands of 128 thousand hectares, which are the main wealth of the district. Black soils are predominant here. According to its potential, the soil of our district is one of the most fertile ones of the country.
The Kurganinsk District has large stocks of gravel, which is suitable for obtaining high-quality crushed stone; and there are clay and sand reserves in the north-western part of the district.
The population is 105.1 thousand people, 53% of which live in rural areas. 32,800 people are employed in the district economy. Our district has a high level of self-employed population.
There are 728 economic entities and 4,077 individual entrepreneurs in the territory of the district.
Agriculture occupies 39.5% in the structure of the basic branches of the Kurganinsk District's economy. The agricultural complex of the Kurganinsk District produces 2.8% of the gross agricultural output of the Krasnodar Region. 8 large and medium-sized enterprises, 14 small agricultural enterprises, 374 farms and more than 6,000 private subsidiary farms operate in the agricultural sector of economy.
The industrial sector of the district is represented mainly by food production and manufacture of construction materials.
The leading enterprises of the district are as follows: Kurganinsk Sugar Factory CJSC, Galan Agricultural Association LLC, Vybor-S LLC, Belorechensk Poultry Factory LLC, Kurganinsk Meat and Poultry Processing Plant CJSC, Kurganinsk Bakery Complex LLC, Kavkaz Agro-Industrial Complex LLC, Vozdvizhenskoye CJSC, Kubanskiy Bekon LLC and Monolit LLC.